Skip to Content
Water Features in Metro Phoenix, Valleywide
Dive into Your Ideal Oasis
Here at LandPros Landscape Management LLC, we comprehend how transformative the addition of outdoor water features can be for your landscape. They bring life, tranquility, and a soothing aura to your property. Be it for pool water features, garden water features, or patio water features; our mission is to materialize your vision right in the heart of Metro Phoenix, Valleywide.
Immerse in the World of Water Features
From the gentle whisper of a stream trickling over stones to the majestic spectacle of a waterfall cascading into a pool, water features have the capacity to turn any outdoor space into a personal sanctuary. When it comes to enriching outdoor spaces, we offer a comprehensive range of options.
Fountain Features
Fountains, whether standalone or incorporated into a pond, inject a dash of splendor and elegance into any setting. They come in an array of designs to match different aesthetics, from modern minimalistic to classic and ornate.
Pool Water Features
These features can completely transform your swimming pool from a simple place to swim into a stunning visual treat. Options include waterfalls, cascades, jets, and more, each adding a distinctive charm.
Patio Water Features
These elements are designed to blend harmoniously with your patio's existing design. Options range from mini waterfalls and fountains to koi ponds and even small-scale streams. Water features for patios are the perfect way to elevate your outdoor space.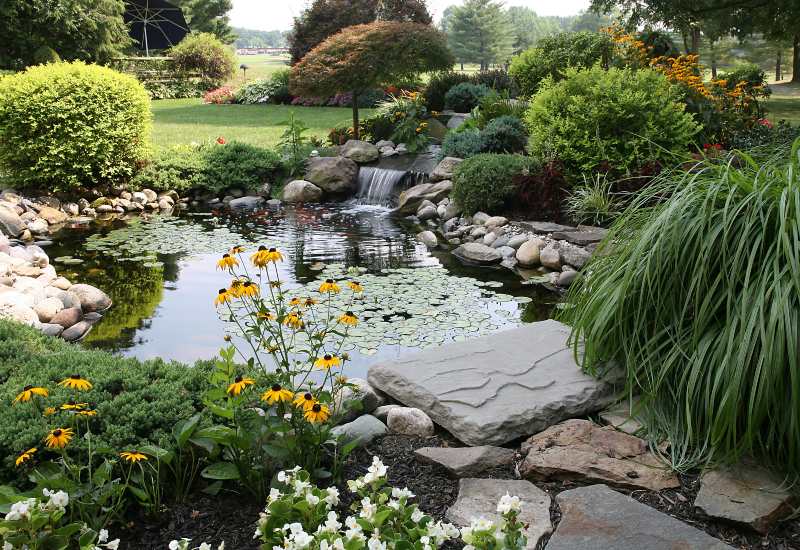 Proficient in Water Feature Repair & Installation
Our water feature installation and repair services include:
Water Feature Installation – Our team of skilled professionals will design and integrate a water feature that complements your existing landscape, all while considering important factors like the local climate, water usage, and ongoing maintenance requirements.
Water Feature Repair – From diagnosing problems to fixing them effectively, we ensure that your water feature continues to function smoothly, whether a simple fountain or a complex waterfall.
Benefits of Our Professional Water Feature Services
Our LandPros Landscape Management LLC team believes in creating landscape water features that offer more than just visual appeal. These installations can contribute to your property's overall value and create an environment that fosters tranquility and well-being. Some compelling advantages of our professional water feature services include the following:
Stress Relief – The calming sounds of water flowing, gurgling, or cascading can help create a serene environment that promotes relaxation and stress relief.
Increased Property Value – Expertly designed and maintained water features can significantly boost your property's worth, making it an attractive prospect for potential buyers or giving you a stunning space to enjoy.
Wildlife Attraction – Water features often draw a variety of wildlife, from birds fluttering to drink to butterflies hovering nearby. This enhances the natural charm of your outdoor space, making it feel like a slice of wilderness in your backyard.
Why Trust LandPros Landscape Management LLC?
Our commitment to quality, customer satisfaction, and meticulous attention to detail makes us stand out from our competitors. We derive immense pride from our ability to create striking and sustainable water features for backyard, pool, or patio environments. But our expertise doesn't stop there.
Quality Workmanship – Our commitment to delivering the highest quality products and services means you can rest assured your project is in good hands.
Experience – Our seasoned team possesses extensive knowledge and experience working with different types of water features, ensuring that we can handle any project, no matter how complex.
Full-Service Approach – We provide a complete suite of services, including design, installation, maintenance, and repair, meaning we're there for you at every stage of your water feature project.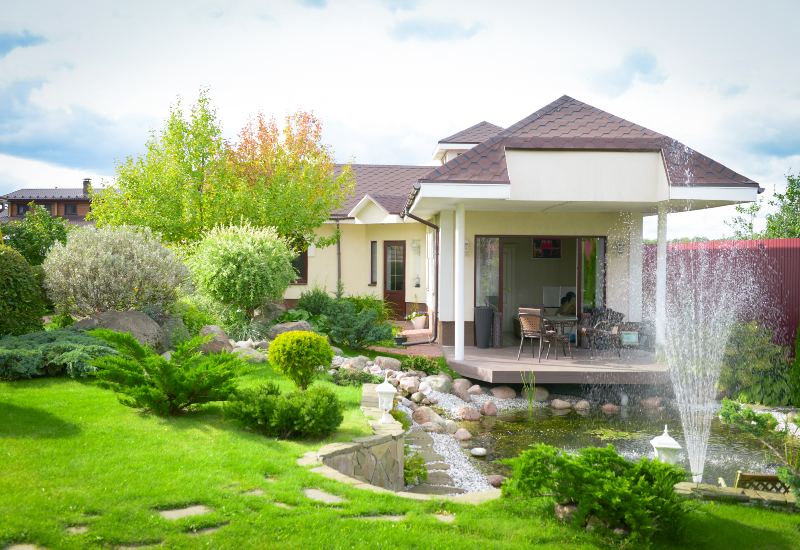 Other Services We Offer
In addition to water features, LandPros Landscape Management LLC offers a diverse range of landscaping services. From designing the perfect landscape to maintaining its beauty over time, we're equipped to handle it all:
Landscape Design and Installation – Our team can shape your yard into a dream outdoor living space that harmonizes with your lifestyle.
Hardscaping – Our skilled team can incorporate patios, walkways, retaining walls, and other hardscape elements to complement your landscape design.
Contact Us to Design Your Dream Outdoor Space
Are you ready to transform your dream of a beautiful outdoor space into reality? Whether it's the installation of stone water features or crafting bespoke landscape water features, we're committed to bringing your vision to life. Contact us, and let's embark on the journey to build your personal oasis.
CONTACT US FOR RESIDENTIAL OR COMMERCIAL PERGOLAS ESTIMATE