Skip to Content
Pergolas For Home And Business in Metro Phoenix & Valleywide
 INSTALLING BEAUTIFUL & FUNCTIONAL PERGOLAS FOR HOME & BUSINESS
Arizonans are no strangers to the heat and sunshine. A pergola can transform your patio into a much more enjoyable area, even on the hottest summer day. LandPros Landscape Management LLC installs pergolas for home and business owners in Metro Phoenix, Valleywide & Tucson. Although our weather is lovely for most of the year, the sun can still be intense. A pergola is a perfect way to add shade and beauty to your outdoor space. Learn more about pergolas and get in touch with us today to schedule an estimate.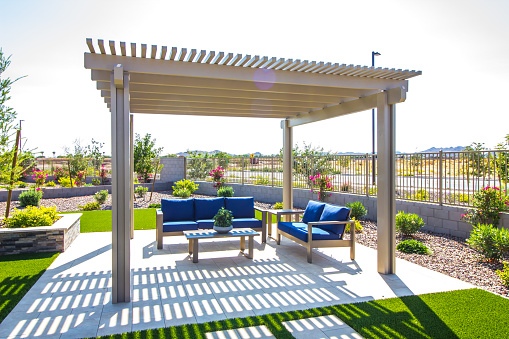 Lifestyle Outdoor Room:
Here at LandPros Landscape, we can help your outdoor room look and feel like an indoor room with an elegant Pergola Covering.
Imagine a relaxing atmosphere with the comforts of being inside. Whether you are entertaining or relaxing our Pergola will shade you, your guests and your furniture from the Arizona Sun.
Give us a call today and we can get started on your new outdoor environment so that you can enjoy for years to come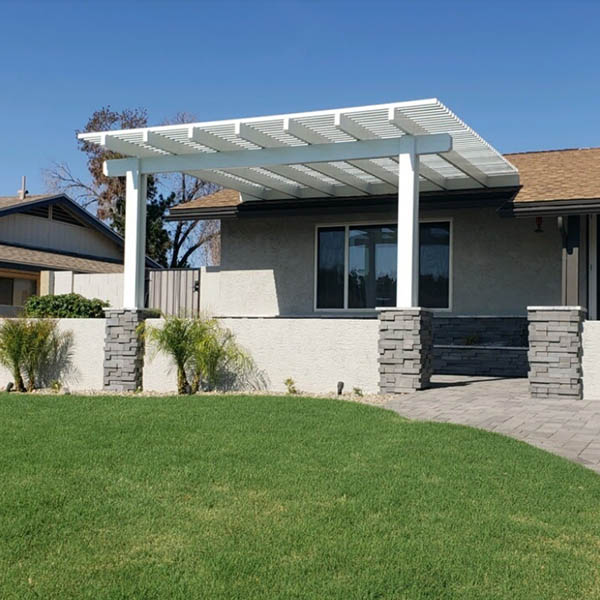 LATTICE PERGOLA:
A Lattice Pergola looks like a traditional wood patio cover and provides all of the benefits of aluminum material, all the while providing the strength of aluminum with low maintainance. With this lattice style patio cover you can reduce the exposure to the Arizona sun by 40 to 60%, while still getting that much needed air flow to your patio area with natural sunlight coming into your home. If this is the look and feel that you want, give us a call today for a free estimate.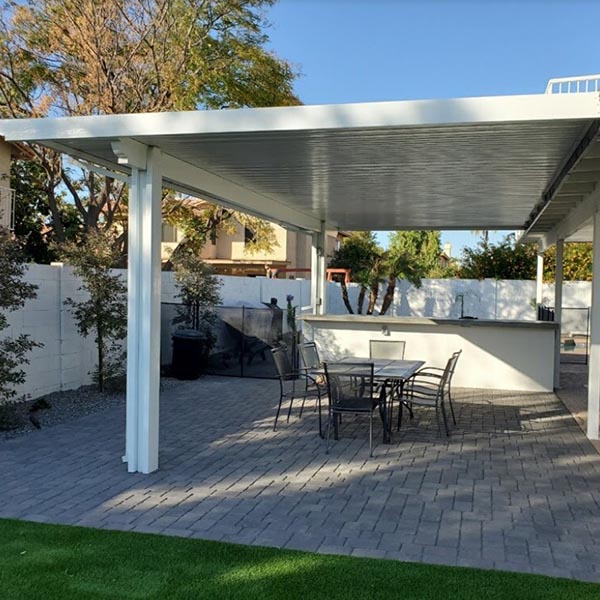 FLAT PANEL PERGOLA:
The Flat Panel Pergola is built with a tongue-in-groove style ceiling with a richly textured wood grain finish look and feel. This style is our very popular in Arizona because of the solid top as the patio cover.
The Flat Panel product is built with an integrated high-grade aluminum and can include extruded gutter as well as a downspout system, with an optional leaf guard. Give us a call for this affordable solution and guard your patio from the sun and the rain while enjoying your outdoor environment.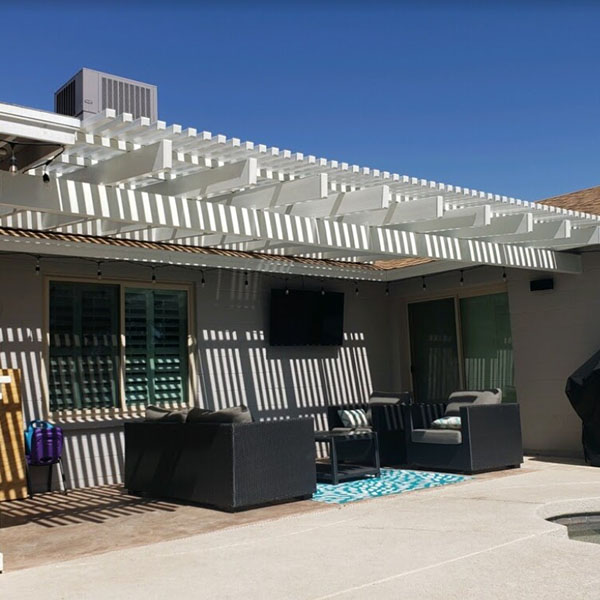 Commercial Grade Pergolas:
Contact us for any new pergola construction or renovation for your business. Whether your business needs a brand new pergola for the front of your building structure or the back, we are here to help.
We use premium-grade wood for our commercial projects which will require no maintenance for years to come. You will not have to worry about the structure having splinters, rot, burn, or re-painting.
Our products are ideal for places of business such as hotels, motels, schools, community poolsides, outdoor restaurant seating, business building courtyards, building pavilions and so much more. Call us today for a free estimate on Flat Panel or or Lattice Style Pergolas for your business.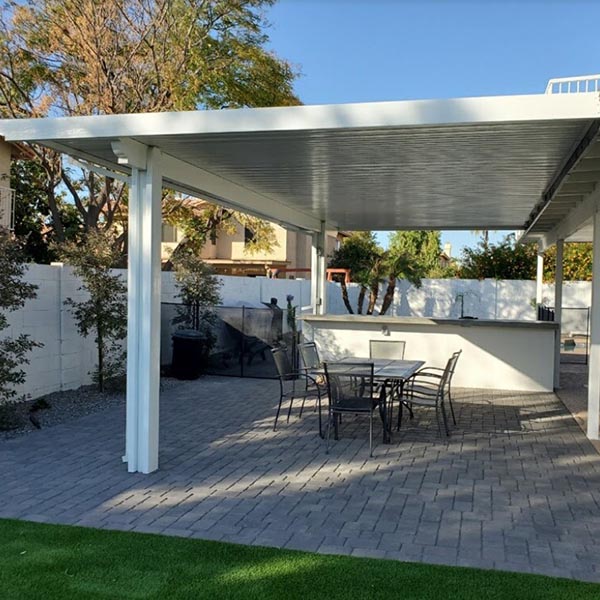 What Is a Pergola & Why Do I Need One?
You may be wondering what a pergola is and how it can benefit your home or business. A pergola is an outdoor shade structure that has an open trellis or ceiling. Pergolas often have four supporting columns or posts and open sides. If you think your home or business could benefit from a pergola, we invite you to get in touch with us for a consultation and estimate. Our team also offers a whole host of residential and commercial landscaping services.
Benefits of Pergolas
Add Beauty
Pergolas offer unique beauty. They can make a basic backyard visually attractive. You can choose from multiple styles of pergolas.
Opting for alumawood pergolas means you won't have to worry about maintenance, and your pergola won't deteriorate.
Our pergolas are typically made from alumawood which is made from aluminum or a wood textured look which helps with long-term durability and provides the perfect wood look.
Affordability
A pergola can enhance your outdoor space without costing you a lot of money. Our team also offers financing options.
Provide Shade
While pergolas are open at the top, they provide plenty of shade due to their large beams. Please view our gallery to view the many options and styles that suit your environment.
Define Space
A Pergola isn't enclosed and is more of a minimal structure and it almost seems to have an "unfinished" look. But the space is a separate space, usually in a backyard or pool side for a commercial setting. It's a separate sitting area where people can mingle and enjoy the outdoors together yet still providing shade and protected for the harsh rays of the sun.
An otherwise boring backyard can be made elegant by adding a pergola. Since pergolas are open and airy, they will not make your outdoor space feel smaller.
CONTACT US FOR RESIDENTIAL OR COMMERCIAL PERGOLAS ESTIMATE