Skip to Content
Patio Lighting Service in Metro Phoenix
We Offer Professional Outdoor Lighting Service
LandPros Landscape Management LLC provides premier patio lighting service to those throughout Metro Phoenix and the surrounding areas. Whether you need residential or commercial patio light installation service, we're the team for the job. Read on to learn more about patio lighting service.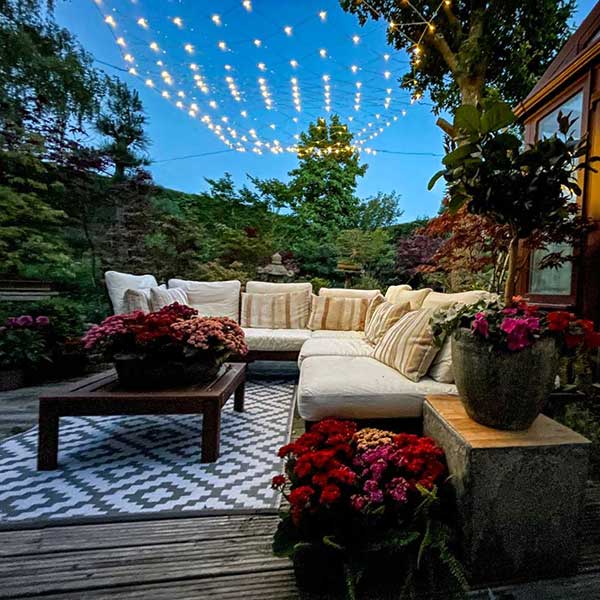 What Is Patio Lighting?
Patio lighting is professional outdoor lighting that can enhance the general ambiance and visual appeal of any outdoor space. There are various types of patio lighting and various benefits of each.
Types of Patio Lighting
When it comes to patio lighting, there are various types that can be utilized and enjoyed by property owners. All patio lighting types can make your outdoor space more inviting and atmospheric. The various types of patio lighting available include, but are not limited to, the following:
Spotlights
Floodlights
Up/Down Lights
Step Lights
Garden Lights
Bollard Lights
String Lights
Residential & Commercial Patio Lighting
In Arizona, patio lighting can serve a wide range of functions for both residential patio lighting and commercial patio lighting. Residential patio lighting can help illuminate decks, patios, garden structures, and other gathering places. Commercial patio lighting can help illuminate restaurants, shopping centers, event spaces, resorts, and more. Commercial and residential patio lights installation service are our specialties. Whether you're an Arizona home or business owner, we are your go-to installation experts.
Choosing Premier Lighting for Your Patio
When choosing your patio lighting, there are several things to keep in mind. Firstly, it's important to determine your budget for your patio lighting project. Second, you should consider your available power sources. While solar-powered lights are great if there is access to sunlight, these types of lights may not be sufficient for a large space. You should also determine the ease with which you'll be able to do electrical wiring to your desired location. From there, the correct type of light fixture is essential. With various types to choose from, it's important to select what will best work with your designated space. When it comes to any aspect of lighting, safety should always be your top priority.
Why Choose Us for Landscaping Lighting Service?
At LandPros Landscape Management LLC, we are dedicated to providing our valued customers with the best service and products around. Residents throughout Metro Phoenix, The Valley, and Tucson choose us for exceptional landscaping services. Our team is capable of transforming average lawns into jaw-dropping landscapes. With over 30 years of combined landscape experience, our goal-oriented and results-driven expert landscaping technicians have you and your landscaping lighting needs covered. Check out our customer reviews to learn about what people are saying about our team.
Contact Us Today for Patio Lighting Service
Whether you need residential or commercial patio lighting, we're the team for the job. With more than three decades of combined experience under our belts, you can expect nothing less than the best when you partner with our team. Contact us today to learn more about patio lighting or to schedule an initial consultation with our team. We look forward to working with you.
CONTACT US FOR RESIDENTIAL OR COMMERCIAL PERGOLAS ESTIMATE