Skip to Content
Paver Installation Contractors in Metro Phoenix & Valleywide
PROFESSIONAL PAVER INSTALLATION IN ARIZONA
Are you looking for a way to add character to your outdoor living space? LandPros Landscape Management LLC offers paver installation services for home and business owners Valleywide. Pavers are available in multiple colors, so you're sure to find something you love. There are paver installation options for every budget and aesthetic. Pavers are popular for pool decks in Arizona, but they can also be used for driveways and other areas of your outdoor space. Our team will install your pavers seamlessly so you can enjoy their benefits. Get in touch with us for an estimate for service.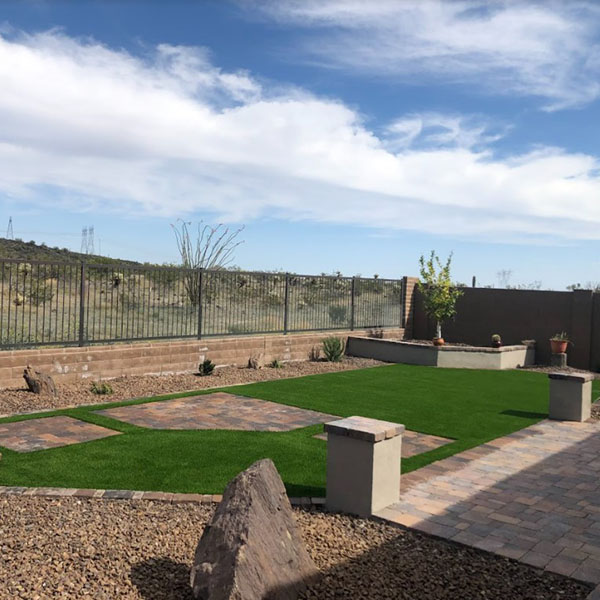 COUNT ON OUR TEAM FOR PAVER INSTALLATION
The team at LandPros Landscape Management LLC has plenty of experience installing pavers. We'll be here for you throughout the project. We can help you choose the right pavers for your home or business. We'll give you a detailed estimate and keep you updated on the status of our installation. We're also there for you if you have any questions about the upkeep and maintenance of your pavers.
The Benefits of Adding Pavers to Your Home or Business
Having pavers installed can make a dramatic difference in your outdoor space. Check out some of the benefits pavers can provide for you:
Options
Pavers are available in multiple colors and patterns. You'll always be able to find pavers that complement your home's aesthetic and landscape design. Paving stones can be arranged in various shapes and patterns.
Pool Pavers
There are a number of types of pool pavers that can be used to compliment your outdoor area. Bluestone Pavers. As a paving material, Bluestone is extremely durable, environmentally friendly and very popular. Other very popular pavers around the pool area are Concrete Paver, Porcelain and Travertine Pavers.
Natural Stone
There are a variety of manmade and natural materials that create superior pool decks, but those made from natural stone are matchless companions to sophisticated pool settings.
Durability
Paving stones are very durable. They can handle the weight of vehicles, stand up to rain and wind, and more.
CONTACT US FOR RESIDENTIAL OR COMMERCIAL PERGOLAS ESTIMATE