Skip to Content
Landscape Design Services in Metro Phoenix & Valleywide
Landscape Outdoor Design and Installation Services You'll Love
LandPros Landscape Management LLC provides landscape design services to home and business owners throughout Metro Phoenix, Tucson, and the surrounding areas, including Tucson, Gilbert, Santen Valley, Florence, Queen Creek, Chandlers, and more. Custom landscaping design is our specialty. Whether you need residential landscaping design services or commercial landscaping design services, we're the team for the job. We've got the outdoor landscaping design ideas you'll love, and we can help bring them to life for you.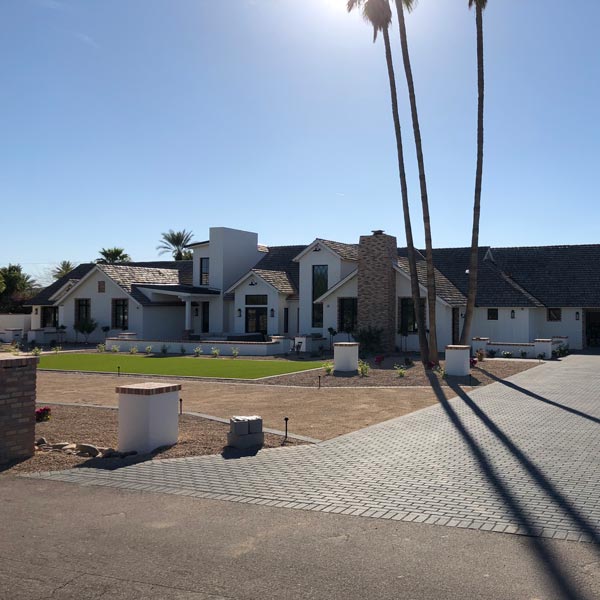 Landscaping Design & Installation
Before we install any aspect of your landscaping design project, you can view the design as both 2D and 3D renderings. Your custom landscape design should be your vision come to life. When you partner with us for landscape planning and landscape design ideas, you can rest assured that you're in good hands. Our qualified design team can help design any landscape project, big or small, residential or commercial. The types of landscape projects we can design range from small landscape bed renovations to complex hardscape installations. Regardless of your project type or size, however, we are dedicated to working with you through every step of the design process to ensure your vision is achieved.
We Offer Custom Landscaping Design for Modern Outdoor Living
Our team of creative landscape design individuals excels in all things landscaping design and gardening. They create outdoor living space ideas that will take your outdated outdoor living space to the next level. Redefine your outdoor living space with the help of our full-service design and installation team. Whether you want a living space that's formal and intimate or causal and comfortable, we've got you covered. One of our expert designers can develop an exquisite design and digital rendering of your proposed design, all while incorporating gardens, seating, and more.
Check Out Our Residential & Commercial Landscape Services
Every outdoor space has the potential to be beautiful. The professional team at LandPros Landscape Management LLC is here to make that happen. We offer residential and commercial landscaping design services for home and business owners throughout Metro Phoenix, & Tucson, and the surrounding areas. Our custom landscaping design services include landscaping design installation for the following:
Decorative Rocks
Pavers
Travertine for Patio & Pools
Pergolas
Synthetic Lawns
Putting Greens
Outdoor Kitchens
Barbeque Stations
Stamped Concrete
Sod Installation
Trees and Foliage Installation
Landscape Lighting
Irrigation Installation
Our Complete Landscaping Design & Installation Services
There's no landscaping design job that the LandPros Landscape Management LLC team can't do. Find out more about some of our professional landscaping services below:
Design & Installation – Whether you're moving to a new home or remodeling, our team can help design and install your lawn. We can complement your home's décor and style or improve the first impression your business offers.
Trees & Shrubs – We plant the trees, shrubs, and plants that best fit your landscape plans. Rest assured; we'll help you select the type of plants and foliage that match your theme.
Irrigation Installation – Make watering your plants and trees easy with irrigation installation.
Low-Voltage Landscape Lighting – Enjoy safe and beautiful lighting for your outdoor space with our low-voltage landscape lighting options.
Rock Installation – Decorative rocks are popular in the Metro Phoenix & Tucson, and surrounding areas because they're a fast and affordable way to refresh your outdoor space. They prevent weeds, control moisture, and minimize erosion.
Sod Delivery & Installation – We can install sod for new lawns or damaged or dead lawns. We also work with new construction homes and businesses.
Additional Services – Our team offers new landscapes and remodels. Call us when you need irrigation, lighting, grass, artificial turf, pavers, pergolas, putting greens, and more.
Contact Our Landscape Designers Today
When your home or business is looking lackluster on the outside, our garden landscaping design services can help bring it back to life again. Our landscaping team has more than 30 years of combined experience and would happily handle all your landscaping design needs expertly. We provide high-quality work using quality top-of-the-line materials, and we also offer financing options. We would be happy to take care of your landscaping needs. We can help your outdoor space become an extension of your home or business so that you can enjoy your outdoor environment or outdoor commercial space. To learn more about our financing options, and residential landscape services, or to schedule a free consultation, contact our team today. You can trust our highly experienced landscaping design team to take your landscape to the next level.
CONTACT US FOR RESIDENTIAL OR COMMERCIAL PERGOLAS ESTIMATE